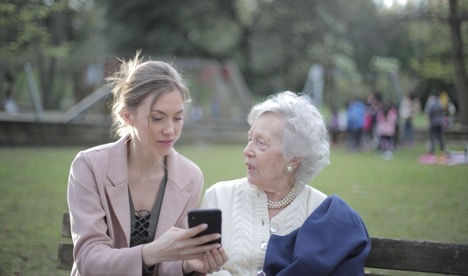 A Guide to Self-Care for Caregivers
A Guide to Self-Care for Caregivers
---
The role of a new caregiver can be demanding, so preparing yourself for the challenging tasks ahead is crucial. Although the road may not always be smooth, there are specific steps you can take to ensure the journey is. HealthJobs presents those steps below.
Look After Your Back
As a caregiver, you may experience chronic stress along the way, which can cause back pain or aggravate pain caused by a previous injury.
Specific strategies can be used to ease the stress and protect your back. Yoga and breathing exercises are great ways of relieving stress, and studies have shown meditation can be effective in treating lower back pain.
Healthy Eating
When you're hungry, you're likely to grab the first thing from the fridge as soon as you get a moment to yourself. Preparing healthy meals in advance and freezing them will save time and ensure you get all the essential nutrients because, without them, your ability to concentrate may be jeopardized.
Be sure that you're not relying on processed foods for your dietary needs. You want the majority of your nutrition to come from whole foods, such as vegetables, fruits, grains, and lean proteins. Processed foods may have lots of added sugar or sodium based preservatives, which can create health problems as you age.
Take a Break
Being constantly exhausted and severely stressed can lead to severe health conditions, so it's critical for caregivers to takea break. You may consider organizing some temporary respite care that will allow you to take a well-earned break while a professional caregiver takes over your role for a short period.
Social Support
Constantly giving to others without consideration for yourself can contribute to social isolation and heighten the risk of depression and other adverse health conditions. Try and seek out friends who share your work experiences. It creates the realization that you're not alone.
Make a Healthier Home
Believe it or not, you can reduce stress and fatigue by decluttering and organizing your home. Not only does this add order, but it means that you'll feel less overwhelmed after a long day of caregiving. You can encourage a healthy environment too when you add potted plants and scented candles or an oil diffuser.
Hobbies and Interests
To help avoid burnout in your work, you can make time for fun when you get a moment to yourself that won't interfere with your work and can even add to the enjoyment.
Probably the safest pastime when looking after your patient. Lose yourself in a good book while they sleep, and go back to it whenever you get a moment to yourself.
The ideal hobby for you and your patient to do together. You can make decorative jars, fridge magnets, bookmarks, and memory boxes which are fantastic for those suffering from any stage of dementia.
Listen to music. Destress and reset your mental energy by listening to soothing music. Just plug in your earphones and let your favorite music wash away the dust of everyday life.
Look After Yourself When Caring For Others
By realizing the importance of self-care, you'll be able to carry out your caregiver duties without burning yourself out. Because if you can't look after yourself properly, you won't be able to provide the appropriate care for those who need it most.
To find your next healthcare opportunity, visit HealthJobs today!
---
Disclaimer: The viewpoint expressed in this article is the opinion of the author and is not necessarily the viewpoint of the owners or employees at Healthcare Staffing Innovations, LLC.